Mecklenburg County Air Quality

AIRWAVES
Environmental Justice:  What's Your Role?
Do you know your neighbors?  Industrial facilities are often located in areas with higher percentages of minority and/or low-income households in close proximity.  This pattern is seen in Mecklenburg County as pictured in the map to the left.  The crescent-shaped area, shaded in dark blue, indicates a minority population greater than 76%.  The same crescent shape is found when mapping income levels, school performance and a variety of other social determinants.

 

This pattern emerges in our community due to past practices such as redlining where government agencies and financial institutions labeled areas as highly desirable or undesirable and restricted access to home ownership and lending based on race.
This is important to our local air quality agency and to you because when we map industrial sources of air pollution you find that many of them are located within the same crescent area.   This means that many of you are operating in areas of our community that are already experiencing poor outcomes over a number of quality-of-life metrics.
So, once we are aware of this, what can we do?
Mecklenburg County Air Quality is committed to the County's vision that all people will have an equitable opportunity to thrive in the workplace and community. 
As a local air quality agency this means we will work to ensure that all residents have:
The same degree of protection from environmental and health hazards, and

The opportunity for meaningful involvement in the decision-making process to have a healthy environment
Our work must include examining systems, policies, and practices through an equity lens.
What role do you play? Below is a list of best practices for facilities that hold air quality permits.
Consider a Community Benefits Agreement that demonstrates your willingness to invest in the community vision of residents around you.

Have a community response plan in place and ready for any dust, odor, or smoke issues.

Engage with the local community. MCAQ can help by creating a Community Snapshot.

Be aware of the environmental data available for your facility – compliance history, emissions data, inspection results, etc.

Operate in compliance with your permit.
Talk to your assigned Environmental Specialist to find out how MCAQ can help you do your part in our community!
Addressing Dust, Odor and Smoke emissions
The Mecklenburg County Air Pollution Control Ordinance has regulations that address excessive dust, objectionable odors, and smoke that are effective county wide. Mecklenburg County Air Quality (MCAQ) has the authority and responsibility to enforce those regulations by conducting investigations. Our investigations focus on confirming the alleged activity, determining the source, and requiring mitigation efforts. Sources of excessive dust, objectionable odors, and smoke vary widely, from a dusty access drive to large industrial operations. A common theme for solutions is vigilance. This means that someone creating or responsibly overseeing activities that generate excessive dust, objectionable odors or smoke must be involved in taking appropriate actions and/or engaging necessary controls, such as spraying dusty areas with water or installing a scrubber to remove odors.  MCAQ encourages open communication between all affected parties.
The chart below displays dust, odor and smoke complaints MCAQ has received in the past three years. Smoke and odor complaints have increased fairly dramatically. Dust complaints are more weather dependent due to rainfall and/or wind direction.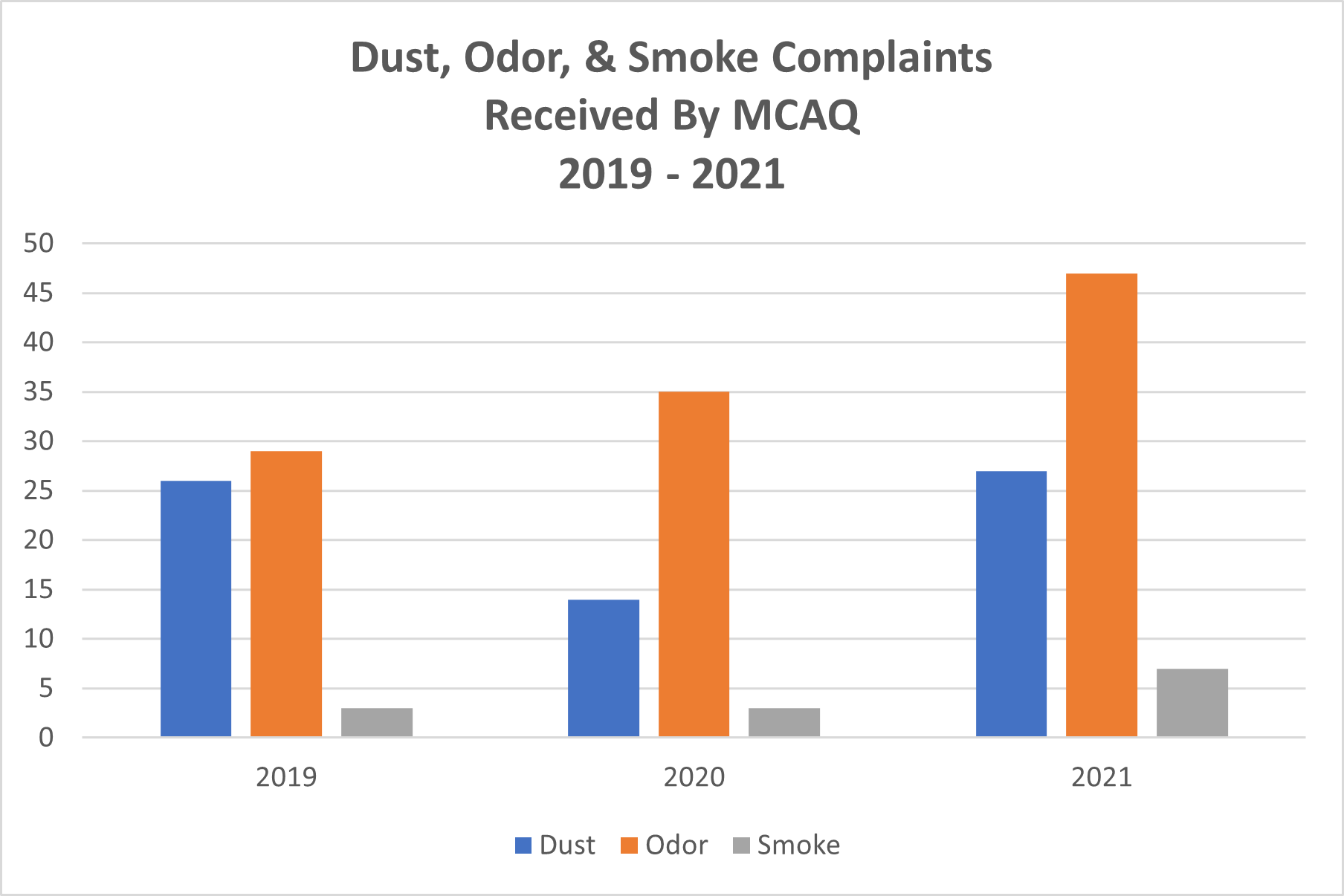 While most dust, odor, and smoke complaints are limited in scope and duration, New Indy Containerboard plant in upstate South Carolina is a recent, local example of how process changes can have significant offsite impacts. Thousands of complaints came from areas in both Carolinas. The facility emits hydrogen sulfide and based on the community response, EPA has taken action to require New Indy to reduce its emissions. New Indy's impact should serve as a reminder to carefully evaluate the community impact when considering changes at your facility. As our county continues to develop and grow in population, the undeveloped area between residents and businesses may shrink. Please contact your MCAQ facility contact, either through our website or by phone, if you have any questions, concerns or need advice about these common complaints.
 Get to know the AQC through Bill Powers 
 

Did you know Mecklenburg County has an advisory board dedicated to air quality? Mecklenburg County's Air Quality Commission (AQC) provides stakeholder input to the Board of County Commissioners, local municipalities, and Mecklenburg County staff to promote the protection, preservation, and enhancement of the ambient air resources of Mecklenburg County, NC.

 

We had the opportunity to learn about one of the AQC's newest members, Mr. Bill Powers!  Bill represents the transportation sector and was appointed to the AQC in August 2021.
Why did you decide to serve on the AQC?
For me, it's an opportunity to serve my community on a local level. I want to be able to bring the learned information and processes back to the community.
I was raised on the west side of Charlotte, near the Union Carbide facility on West Trade Street. I can remember, during the '70s, many times smelling strange smells and clouds emanating from this facility. Often, I was told by the neighborhood adults not to go outside and try not to breathe in these clouds and smells. I recall the Fire Department responding to some of these instances. The Fire Department also advised the children to go back inside and close all windows and doors.
I asked my father why I could not play outside. He responded that the air was not good for us. I asked my father. Who fixes the air for us? My father responded, "I don't know."
Why is the AQC important to the community?
The AQC is important to the community because it provides accountability of manufacturers that might disperse possible contaminants that may affect the county's air quality via permit and monitoring processes.
What are you hoping to accomplish while serving on the AQC? 
Through community involvement, I hope to educate myself and the community with regard to the AQC resources available to the public. I want to show the community that the county's citizens have opportunities to help shape Mecklenburg County's current and future air quality.
The AQC is currently seeking a new member to represent the industrial sector.  If you live in Mecklenburg County and are actively employed by, or recently retired from, an industrial facility, your experience and perspective is needed.  Apply online to join Bill and other local leaders on the AQC!
Air Quality News at the November 4th Annual Forum
Mecklenburg County Air Quality (MCAQ) hosted its Annual Air Quality Forum virtually on November 4, 2021.  At the event, MCAQ and the North Carolina Division of Air Quality covered updates on AQ Hot Topics, Compliance Assistance Tools, Environmental Justice, and more.  Visit MCAQ's Annual Forum Website to review all the presentations and content from the event.  Let us know if you have any questions or need additional information. 
Stay on Track with the
2022 MCAQ Compliance Calendar

© 2021 Mecklenburg County. All Rights Reserved.
Visit the Email Preferences Center at any time to update your subscriptions: